Sar – Zarantyr 7th, 999 YK
Saturday – January 7th, 999 YK
Morning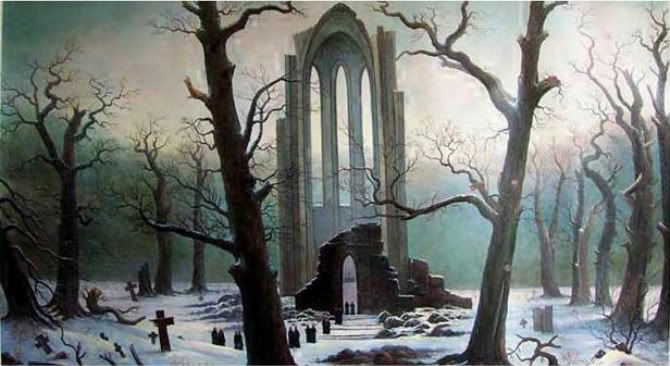 Taveah, Kohl, Sejik and Caiphys have returned to Korranberg to attend Miklos' uncle's funeral.
Despite Zilargo's southern origin it has seen its share of cold seasons, however, it has never experienced the icy chill of this year's winter. The countryside's verdant greens are now twisted dark talons of winter shorn branches and the ground a white graveyard. The air is cold, the sky is dark and overcast, and every so often flurries still drift down from the icy clouds above.
Scholars say this harsh winter was caused by the icy touch of Risia upon the world. Others say the winter is a harbinger of the end of days as we approach the millennium. Fewer others claim a greater knowledge and say the winter is the work of fell demons recently awakened from their long dark slumbers. Perhaps, it is all these things. Perhaps it is none of them.
Ice still lingers in the ruts that dot the cobblestone that winds its way to Korranberg Cemetery and the city walls and palisades are slick with clinging ice. The streets are cold and empty; the alabaster fangs of the famous Library tower behind the snow-draped cityscape.
Beyond the cemetery gates, a crowd stands around the open mausoleum of Miklos' family. A young House Jorasco priest of the Sovereign Host wears a worried expression as he attempts to cast a Raise Dead ritual for the fourth time.
"Arawai, I beseech thee! Return this worthy scholar back to life!"
Standing beside the priest is Miklos, his son Niklos and his family, all of whom can barely contain their sobs of grief. The rest of the crowd looks no happier, and many of them make protective signs as they mumble, "The Sovereigns have abandoned us," and "A curse has been placed upon this city," and "Poor, poor Baklos!"
Taveah notices a figure standing apart from the crowd, leaning against another mausoleum and wearing a dark cloak and hood to ward off the falling snow.
As the halfling priest reads the last words of the ritual and applies the last of the mystic salves to the corpse, he says "Baklos, you shall rise, in the name of…" the young priest chokes unable to speak the name of his god. Suddenly a malevolent wind rises within the stone crypt, and a dark mist swirls wildly.
"O kyr car thalael. Sor oli air byrn toli!" mocks an otherworldly voice. The dark mist erupts from the open mausoleum violently knocking the priest back and scattering the crowd. For just a moment, the mist seems to take the shape of the face of an ancient elven queen dessicated by the passage of time. It disappears as quickly as it arrived. A deep hush falls over the graveyard, broken only by the sound falling snow and the sobs of Miklos and his family.
Taveah approaches the mysterious, shrouded figure. "This is a private funeral," she says. "No loitering permitted; especially by men lacking the courage to show their faces. Who are you?"
The figure cocks its head, as if considering this question. A familiar, gravely voice replies, "You are Taveah?"
Taveah's frown deepens. "Who are you? I won't ask again." She touches the hilt of her blade with graceful fingers.
The figure regards her. "You would know me as Morthos."
Taveah blinks, taking a reflexive step back. "Morthos fell in the Orrery. Let me see your face."
The figure pulls back the hood, revealing Morthos' familiar horns. His features, though, are gaunt and gray. Dead.
Taveah gasps. "Morthos! Wait here." She returns to what's left of the funeral gathering to alert her companions to this unnerving reunion.
Kohl, Taveah, Caiphys and Sejik gather around their formerly (or perhaps currently) dead companion. A quick examination by Sejik and Caiphys reveal Morthos has become a revenant. Sejik — already out of sorts — is displeased by this, and acts hostile toward his former companion.
"Morthos is dead!" He tells the revenant. "I don't know what you are, but you're not my friend."
Morthos, for his part, is completely disinterested in this emotional crisis. He has a task, which he's adamant about completing quickly and efficiently: Lady Vol has constructed an Eldritch Machine in her Castle at Illmarrow on the island of Farlnen. It is stealing souls from Eberron before they pass to Dolurrh. Morthos has been tasked with destroying it, and also rescuing his "caretaker," Moyshanna.
"Hm. This is likely why resurrection magics are failing." Kohl surmises after Morthos has told his fragmentary tale.
"Oh, no," Taveah says, looking at her cousin. "Lord ir'Lumm was only just executed. Do you think…?"
Kohl glowers, the painful memory of what they witnessed in Flamekeep still fresh. "This cannot stand. That man deserved better in life, in death he should at least have peace."
Taveah nods in agreement. "There is something else. As you know, cousin, I am a curious girl…"
"Sometimes to our detriment," Kohl says, with a hint of a smile.
Taveah ignores this. "I've been studying the languages of this world a little. That shade, she said, 'Your gods have abandoned you. This soul is mine.' It was in Elvish."
"You think it was Lady Vol." It wasn't a question.
"I think it likely, yes. Or some aspect of her."
Kohl shakes his head. "She has hampered us from the instant we were brought to this world."
"I think we've also hampered her," Taveah says. "She has designs. I suspect we've only gleaned pieces so far."
"And here is yet another, standing before us." Kohl gestures toward what's left of Morthos.
Taveah shakes her head in disbelief. "I never thought I'd feel sorry for Morthos."
"I'm not certain that IS Morthos, Taveah. Be wary. Remember your lessons on the Wall." Kohl warns.
Further questioning reveals Morthos is working with — or for — a group he calls the Shades of Darkness. None of the group has heard of them.
"I don't trust organizations with redundant names," Caiphys remarks, darkly.
"The power of the Traveler compels you!" Sejik shouts, thrusting his holy symbol toward Morthos, who doesn't even flinch.
Illmarrow is far. Knowing they'll require reliable transport, Miklos — who, regrettably, has family business to attend to and won't be able to join them — suggests they speak with their friend and contact Eaus Segvan about travel to Farlnen, Lady Vol's island.
After a brief and unsuccessful attempt at convincing Miklos to lend them his prototype airship, they make their way to the House of Eaus. Once there, they wait in the parlor for Eaus's return. Sejik continues to hound Morthos, despite Taveah's protests.
Finally, in a fit of sudden rage he slams his Traveler holy symbol on the table, points at Morthos and demands: "Who do you serve!?"
Morthos looks at him placidly, and replies, "Kol Turrant."
This silences Sejik, who seats himself and says no more. When Taveah and Kohl press him on the identity of "Kol Turrant," both Sejik and Caiphys warn them not to say the true name of the Keeper too loudly or too often.
Eaus arrives, but is of little help. The group inquires after airships, but Eaus reports the terrible weather isn't permitting airship travel to the north. Eaus provides them with the name of Jordhan d'Lyrandar, an elemental galleon captain in Stormhome who is familiar with the northern sea. The group travels by rail over the course of three days to Flamekeep in Thrane and then another three days by sea through Scions Sound to Stormhome.