Mol – Sypheros 2th, 998 YK
Monday – October 2th, 998 YK
Afternoon
After 2 days trekking back through Dreadwood's forest, you finally return to the Swiftwind. As you board, the captain relays an important message from your old benefactor, Sur'kil:
"We must meet at once. I will be waiting for you in Korranberg at Soladas Library College. Come quickly for I believe Lady Vol's minions are tracking my movements. May Siberys' light guide you."
The voyage is 10 long days, and your nights are continually beset upon by nightmares and visions of dark portents. During the voyage Miklos finds the time to inscribe a teleportation circle on the deck.
As he finishes, Miklos smiles wearily at his craftsmanship and mutters, "And that my friend will be the last time I get my feet wet boarding this ship."
Zor – Sypheros 12th, 998 YK
Thursday – October 12th, 998 YK
Afternoon
The Zilargo countryside is breathtaking and the city of Korranberg mirrors the same beauty. The architecture is a synthesis of many types of wood and stone blended together to form pleasing patterns. You dock the Swiftwind and your travel papers are checked by a cheery gnome who wishes you the best of visits. As you walk along the perfectly kept cobblestone streets, you notice they are kept lit by torches fueled by continual flame spells. The gnomish citizens are also perfectly kept and are adorned with the finest jewelry and glamerweave clothing. Each one chats and waves to each other as they stroll happily throughout their busy day. The air is fresh and the tropical breeze is nothing short of paradise. It still amazes you that this place can remain so peaceful without nearly a single militiaman in sight.
You reach the bronze, east-facing Sunrise Gate of the Library's Soladas College at mid-afternoon after a brief stroll through the pristine streets of Korranberg. When you reach the guard house, a short gnome with receding brown hair and a ready smile walks up the path to greet you. "Welcome to Blackdragon College," he says, "Can I be of service? I am Professor Tevors… Oh why Miklos, is that you?"
"Professor Trevor, why yes it is I. Miklos, the Great!" the gnome happily gestures. A muffled trumpeting is heard from within his backpack.
The professor raises a brow towards the pack, "Uh… yes. Yes. Of course. How have you been?"
"Well, though I could have done without running into my no good brother!"
Another furrowed brow. "Miklos, Miklos… You know family is the cornerstone of Zil society. You really should set aside your differences. But then again, it's not really any of my business. How can I help? What brings you to Korranberg?"
Miklos sighs and presses forward. "We are here to meet a human named Sur'kil. He hails from Breland. Do you know of whom I speak?"
"Of course? He has been here at the Library for nearly 2 months. He is quite known for both his coin and his appetite. He is enjoying a late lunch in the eating house." The gnome gestures past him, "Please follow me."
You follow Professor Trevor to the Soladas cafeteria. In the back, in a private room, Sur'kil is seated at a large banquet table, enjoying a magnificent feast.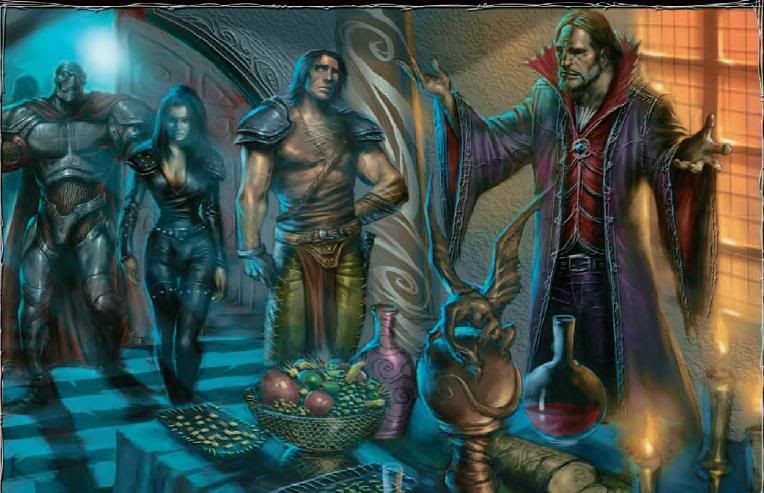 "Ah… friends, you have made it back safely. I am so pleased." he pauses and notices Caiphys. "I see Kirin no longer travels with you. I hope he fares well?"
"Kirin was called to Sharn by our Guild." Caiphys replies matter of factly. "I am Caiphys. I have heard much about you. It is a pleasure." he nods.
"Likewise." Another pause. "Interesting that Kirin would leave knowing the perilous circumstances of his dragonmark. But perhaps we will save this discussion for another time. Please sit and eat. I am sure you are all very weary from your travels."
You take his suggestion and sit to have what is likely the best meal you have had since your meeting with the High Prince of Regalport. After dining, Sur'kil begins his discussions.
"First, I must apologize for entangling you in these matters. Had I known the true extent of the risks you would face I would have been more forthcoming with information."
"I am a member of an organization called The Chamber. It is the Chamber's duty to oversee the delicate patterns within the fabric of the Draconic Prophecy. Some may argue the Chamber works only to ensure the Prophecy brings fortune to itself, but the truth is, we seek the protection of Eberron and will give our lives to that end. Recently, our prophets detected a powerful warning named the the Prophecy of Threes."
"It reads: 'In the days following the Shadow, the Gateway will reveal a Passage of ruin. Once trespassed, Aridar-astrix-sauriv shall awaken, the Na Vakhti shall stir, and the lost Mark of Dolurrh shall find dominion. Then will the guiding claw of Falazure be cut, then will the Sovereign fall from Mother's ring and then will Eberron kneel before the seed of Khyber'."
"Much of this passage is veiled, but be assured; it means disaster for all of Eberron. Arida-astrix-sauriv, or the Dragon's Eye, was a device or artifact from the Age of Demon's crafted as a means to dominate all dragonkind. This artifact was believed destroyed; but the prophecy is clear. The awakening of the Dragon's Eye heralds great doom. I was charged with finding the Dragon's Eye to bring it under the Chamber's protection. During my studies, I learned that the Temple of Kha'shazul was known to rest atop an ancient fiendish power source said to be an orb or "eye" of great power. It was my belief that Kha'shazul's tomb might in fact be the resting place of the Dragon's Eye. It was after this discovery that I employed your services."
"When you returned empty handed I feared I was mistaken, however, the presence of your marks and the relic you obtained proved most interesting. But I was most concerned by your confrontation with the Emerald Claw and how they learned of the Dragon's Eye and of their service to Vol."
"Thousands of years ago, it was revealed that the elven line of Vol, a house that had long practiced the arts of necromancy and bore the Mark of Death, had engaged in secret dealings with a clan of dragons, led by a elder green dragon named Erandis. Their dealings were unnatural and produced offspring whose blood could destroy all living things. This triggered an unprecedented alliance between Argonnessen and Aerenal, as dragon and elf worked side by side to wipe out the bloodline of Vol. The sibling kings proclaimed that the house would be exterminated to the last member. The war was bitter, but the line of Vol was exterminated or so we believed. I have confirmed that the Claw do indeed serve a being named Erandis d'Vol; a lich queen who dwells in the icy reaches of Fingerbone Mountain, in a place called Illmarrow. I am loathe to believe what this could portent, but it seems the Mark of Death lives."
"The presence of Vol is a threat to all life on Eberron. She must be stopped. However, the temple's curse is of immediate concern. I have been unable to discern anything further regarding the relic found within the Temple. Perhaps you have discovered more within Jheamast's tomb?"
You inform him that you have found the remaining 2 artifacts from Kha'shazul's temple and also discuss your visions from Jheamast's tomb. Specifically you mention the beach of Argonnessen, the orb and how it appeared to have cured Jheamast and the strange spired tower.
Sur'kil looks perplexed.
"The tower you described must be the Orrery of Vortuum. I am, however, leery of the image of Jheamast's recovery. The orb at Vortuum is believed to be an Orb of Dragonkind. As you know the Age of Demons saw the dragons of Argonnessen rise against the Na Vakhti. During this struggle, the Daughter of Khyber created Orbs of Dragonkind to bind the will of dragons. One such orb was taken from the fiends and secreted to Argonnessen. The Orb was unlike the others and appeared dormant. The dragons, nevertheless, took the Orb to the Orrery of Vortuum, a tower that sits on the rim of Fang Crater where it has remained under guard ever since. Orbs of Dragonkind are constructions of great evil and I cannot fathom what good they could bring. Nevertheless, your experiences have merit. It will be difficult for me to gain access to Vortuum for you. The journey to Argonnessen alone is dangerous, and will take over a month to complete by sea. And travel within the Vast is nearly impossible by land. Perhaps an airship would be better suited. I will speak to the Chamber on your behalf and see what can be done. I am, after all, responsible for what has happened to each of you."