No when
No where
You descend into darkness…
Screams of agony fill your ears…
You struggle against the descent…
You fall…
Desperation…
Dark hungry shadows ascend from the depths below…
Terror…
You struggle against the descent…
Claws and teeth maul and gnash, skin flays from bone…
Pain…
You struggle against the descent…
An endless maw of abyssal chaos awaits below…
Darkness…
You struggle against the descent…
Oblivion…

You awaken before a bleak vista of rust-red dust, bathed in the crimson rays of a deep red sun. The massive orb hangs motionless and directly overhead in a perpetual high noon. There seems to be no true directions here – the distant horizon is cloaked in a blood-red haze, and it appears to curve upward and away from you, as though you stand in the depths of a huge bowl, yet the ground around you seems flat as a tabletop. A constant wind blows incessantly, stirring the rust into a clinging mist.
You remember nothing of your past, only the sinking feeling that something truly horrible has happened… something that stopped you from fulfilling a purpose you have no memory of. As you look down at yourself and take inventory of your belongings, you fall back in horror. You cannot determine what you are wearing or what you may have, all you see is a whirling mass of red dust and specks of iron; a reflection of the barren lifeless land before you.
You calm your nerves and look around at your surroundings. Behind you is a weird forest of grotesque trees. The plants tower tens of feet and are twisted into wild serpentine curves. Their bark and foliage are either disgusting purple, made even more lurid by the red sunlight, or bone white that appears to be freshly washed in blood… another trick of the red sun?
To your right is more rust. Along your left is a thick haze. Through it you can make out the banks of a lake filled with white hot iron. Above you a massive earth mote floats aimlessly across the bleak crimson sky casting a long ominous shadow behind you.
Straight ahead, also cloaked in haze you spy a great corroding fortress of iron. A seething mass of demonic creatures surrounds the citadel in a restless living tide. Waves of attackers swarm over the battlements, tearing away great chunks of metal.
Scouts along the outskirts of the hoard, soon take notice of your curious arrival. Several chaotic beasts peel off from the roiling mass and feverishly bound across the rusty plain towards you.
You run from the hungry demons and into the forest of serpentine trees. To your horror, the trees start to attack tike hungry vipers. The demons pursue, but are not attacked by the viper trees. You quickly hurry through the forest; the trees biting and lashing at you as you run. You barrel over an obscene bulbous trunk and through a vicious net of viper branches, the demons close at you heels.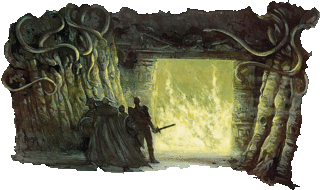 It's then that you notice a cave amongst the hungry trees. An eerie green flame burns within. You make the decision and rather than face death at the hands of demons or the viper trees, you race into the burning green flame. It is unnaturally cold, piercing deep to the bone. Your world spins wildly and then goes dark.
You awaken below a wan cerulean sun which feebly illuminates a dark sky. Strange blue lights wash over a thick grassy savannah of hills. Behind you is a cave, filled with cold blue flame. The air is still and temperate. As you begin to stand you look down and notice you have changed once more. You are naked and your skin is like black polished obsidian. Your hands each decorated with six slender fingers. You feel your face, sharp teeth and pointed ears and the ridges of 6 small horns on your head. Your twin marks burn coolly; their color the same as the blue eldritch fire through which you have just passed.
Strange memories begin to flood your mind, memories of your life as a tiefling… memories of your life as a devoted follower of a dark god, memories of visiting a realm not unlike this one.
You wander aimlessly for a period, injured, dehydrated and near death before you see lights and the signs of civilization. As you approach, you see a massive city of dark walls and breathtaking spires.
You reach the giant city walls and the entrance gate. Scores of denizens of every ilk poor through the gates… your presence and appearance completely ignored. Its then you realize there are other creatures that look much like you… though dressed and armored. You approach one, an armored male and ask for aid.
He looks at you disgusted, "Pike off berk! Go peddle for jink elsewhere!" He then makes a double take "What? Sorry brother, I did not realize. Come let me help you." You collapse in his arms from complete exhaustion.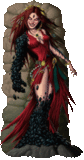 You spend the next several days in a warm bed, cared for by a menagerie of strange creatures and fed all manner of strange food and drink. However, in your haze you recall seeing a beautiful woman with piercing red eyes enter your room each night and whisper soothingly in your ear. Each night the beautiful woman would then peel and crack apart revealing thousands of beetles that scuttle up the walls and ceilings and the out the window into the cool dark night.
When you are healed enough to be coherent you learn that you are in the demon city of Zelatar, capital of the Abyssal Plain of Voorz'zt – domain of the Dark Prince of Lies of Deceit, Graz'zt the Fallen of Baator. You learn that your female caretaker is a Lamia named Luz. When you inquire, you learn Lamia are bizarre fey comprised of hundreds of black scarab beetles. They typically lure wayfarers to their deaths by assuming a pleasing humanoid guise. This one however, has no such evil designs with you, and instead dutifully cares for your wellbeing.
You also learn that as a tiefling you share an uncanny likeness with the Demon Prince, and are assumed to be one of his six fingered slayers, his dark assassins. You do your best to bluff the situation, feigning amnesia.
In the coming weeks, you are taken into the fold and educated in the ways of the Six Fingered Slayers. You learn that Graz'zt, the Plain's demon prince, controls two additional layers of the Abyss and is at war with another Abyssal lord named Demogorgon. You also learn that Graz'zt is working with the Demon Prince of Undeath, Orcus, in an effort to destabilize Demogorgon. Orcus and Graz'zt share no love; however, their hatred of Demogorgon is equal. The alliance is tenuous at best, and the presence of Orcus' minions in Zelatar has put the city on edge.
As part of your indoctrination you learn the tenets of the Cult of Graz'zt. As the lord of seduction and guile, his teachings are very alluring. In time you are met by the Six Fingered Slayer Guild's leader. A half-fiend named Thraxxia. She entertains you over the course of days and is greatly interested in your story.
As your time with her progresses, you each grow closer and in short order, intimate. It is then when everything unravels. On the eve you and her are to join, she discovers your mark and recoils at its sight.
"You! You bear his Mark! The bastard son of the bastard son! What treachery is this? Explain yourself or I shall slay you where you stand."
You try to explain to her that you know nothing about what she speaks but your words fall on deaf ears.
"You feign innocence, attempt to bed me and then usurp my place? Fool! Our dark father has prepared me all too well to be overthrown by the worm of his many whores!" She laughs almost hysterically. "Insolent whelp, I shall flay your flesh across the Three Layers for all to witness and suffer your soul in deepest recesses of the Blood Rift!"
She attacks with lightning speed slashing your throat with her razor sharp claws. You are stunned by the swiftness and ferocity of her attack, and then bewildered by the strange sensation of you head rolling off your neck. Once again darkness overwhelms you.
You awaken and gasp a breath of cold air like it's your first. Your eyes snap open. Colors seem dim, and every sound is foreign and filled with newness. Rather than warmth, a chill emanates from within you, making your chest feel heavy and your extremities feel ablaze with heat.
Memories flood your mind. Before this place, you struggled in… somewhere cold. The sky was dark, but it was also somehow alight with flowing color—as if the wind glowed instead of the stars. And before that… other memories – scenes, faces, feelings – all a jumble, all confused like a half-forgotten dream. You know one thing for certain. You were dead and far from this place.
The stone chamber around you is cold and poorly illuminated. The smell of incense permeates the air. Two bald men in dark robes hover nearby; each carefully chanting in a language unfamiliar to your ears. You attempt to focus better on your surroundings, clearing the haze from your mind. A woman stands nearby… is her name Luz? No, it's another woman; a raven haired eladrin clad in dark leathers.
"Welcome back to Dolurhh Morthos," she whispers. "You have been quite difficult to find. Though Toldrin here assures me, this time you are here to stay. Right Toldrin?"
"Yes Moyshanna." One of the bald men nods.
"Good. Now Morthos, I am sure you have many questions and in time they will be answered. However, for now you must rest. You have been through much, though I do not know how much you may recall. I do not want to fill your infernal skull with all that is necessary while that brain of yours slurs around like Gloomwrought larvae," she smiles.
You start to speak but Toldrin waves a soothing herb over your nose and you relax into long missed pleasant dreams.
Upon awakening the déjà vu is unnerving. Have you done this before? Why is this so familiar? You are wrapped in a body that feels eerily familiar. Everything is intact, two arms, two legs, five fingers on each hand and five toes on each foot. You find a mirror and see the pale reflection of a tiefling lost to shadow and more. Your female caretaker is named Moyshanna, high priestess of the Shades of Darkness. She informs you, to your disbelief that you have passed through the Gray Veil into Dolurrh and that you have been risen as a revenant at the behest of her god Kol Turrant, though you know the deity by another name, The Keeper.
You learn the details concerning her organization the Shades of Darkness or the Conclave as it is called by its members. You also learn that the Conclave's purpose is to protect Dolurrh and to do the bidding of Kol Turrant.
She tells you that you are in Gloomwrought, a sprawling metropolis contained behind black walls studded with leprous green lanterns. This city of high towers has narrow streets, deep shadows, and strange people. Nothing stays the same for long in Gloomwrought, because the streets move, changing course overnight. Buildings might vanish, swallowing up their inhabitants, and an entirely different structure appears in its place overnight. It is all these things and more, but she and the Shades of Darkness call it home.
Recently chaos has spread throughout the Shadowfell. Minions of the Demon Prince of Undeath Orcus have been spotted near the city and souls have stopped flowing to Dolurrh. Moyshanna believes that Orcus, in league with the Conclave's nemesis, Lady Vol has circumvented the natural order of things and is siphoning the souls of the prime material to an unknown location.
She has learned that Lady Vol has constructed an Eldritch Machine on the Prime Material, which she believes may be the power source responsible for disrupting the flow of souls. The machine is located in her ancient castle of Illmarrow on the Isle of Farlnen north of Khorvaire. She discovered this after her sages discovered a powerful planar rift that tore through Dolurrh and Eberron, the epicenter was Illmarrow. She and six others will pass though the Gray Veil to Eberron, enter Vol's castle and destroy her and the machine.
Adding to this, she tells you that her god came to her in a vision and spoke of the One Tortured By Shadows who is said to be one of three champions destined to shape the future of Dolurrh. This champion would be known by a strange mark. Moyshanna's men discovered your body on the shores of the Stormy Sea and saw your mark. They quickly began the long process of reclaiming your soul. Her priests detected the strong presence of Abyssal magic during the ritual which fought their attempts to reclaim you. The ritual took many tries, each time failing as if something dark and sinister held a previous claim. Fortunately, her most accomplished priest was able to successfully bring you back.
She goes on to tell you that while you are free to do as you wish, your aid is critical to protecting the Shadowfell. She also says that while you may not believe it now, your soul is linked with prophecy and that if you attempt to destroy this link you will likely destroy your soul in the process. Whether because you believe in prophecy or simply because she saved your life, you agree to aid her.
You, Moyshanna and her men reach Eberron, however, something goes wrong during the planar crossing. Somehow you and two others are separated from the main group. Presumably they arrived in Farlnen, but you three arrived in the dead-gray mist of the Mournland. Beyond the mist, this battle-scarred region is a grim memory of the Last War, cloaked in perpetual twilight. Like a wound that will not heal, the land is broken and blasted. In some places the ground has fused into jagged glass. In others, it is cracked and burned and gouged. Broken bodies of soldiers from various sides litter the landscape—soldiers whose dead bodies refuse to decompose. The Mournland is, quite literally, a vast open grave.
You are beset upon by creatures of the fell region and your companions do survive the ambush. You flee the desolate wastes and reach the western border where you make your way to the Brelish outpost of Vathirond. Weak, ill supplied and harried from your travels you decide to seek aid from a friend you recall once having. A gnome, named Miklos in the Zil city of Korranberg. You and your companion begin the long trek over wintery lands south. Your travels are a hodgepodge of foot, carriage and horseback as many will refuse to assist you either because of your appearance or because you lack the proper paperwork. The winter snow is thick and merciless making your travels incredibly miserable.
Eventually, you reach Korranberg and track down Miklos. You learn that he is attending a funeral for a relative named Baklos who recently passed away. You try to recall the name, but nothing registers. You approach the outskirts of the cemetery and quietly watch the ceremonies…