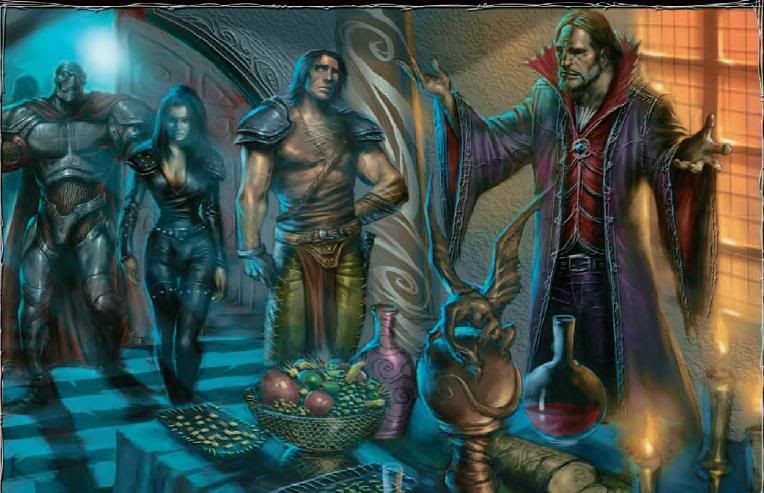 Sul – Lharvion 22nd, 998 YK
Sunday – July 22nd, 998 YK
After taking a sky coach to the Skyway and waiting patiently for the restaurant doors to open…
The hostess leads you to a second-floor room, partially open to the floor below and with an excellent view of the stage. The sounds of a lute carry above the faint din of breakfast. A number of chairs are arranged closest to the balcony's edge, and a low table against the back wall of the room is laden with fruits and pastries.
A middle-aged Brelish human with dark hair and neatly trimmed beard stands near the chairs, apparently enjoying the musical performance. He turns as the door opens, gesturing to the table.
"Please, help yourselves. My name is Sur'kil, and we have business to discuss, which is always more pleasant on a full stomach."
"I am what you might call an independent researcher. I have recently uncovered hints and rumors of an ancient site dating back to the so-called Age of Demons. I would like to employ you to investigate this location, and to retrieve a relic that I believe might yet remain there. This task is not without some degree of danger, which is why I require the services of individuals such as yourselves."
Sur'kil continues.
"The location, while nominally still in Khorvaire, is somewhat remote, and so I would like to procure your services for a period of at least four weeks. You will have free choice of any treasure found at the site with the exception of the relics I seek, for which you will be rewarded in full. I can offer you each a base fee of 250 galifars per week plus travel expenses. I will provide half up front."
The paladin named Kohl is first to ask questions, "Where will we be going?"
Sur'kil takes a sip of wine, "I would rather not discuss it until we are on our way. Once en route, I can fill in as many details as I know."
From the shadows the tiefling, named Morthos, speaks, "How exactly do you know us?"
"Those in my profession make it their business to identify up-and-coming adventurers and explorers. Your activities have not gone unnoticed." Sur'kil responds.
"What sort of dangers might we encounter?" the cleric named Sejik asks.
"Wildlife and primitive tribes, both expected to be hostile."
"What kind of relics?" inquires the gnome named Miklos.
Sur'kil dabs his beard as he finishes his bite, "Tablets or slates with ancient writings, lost works of art or symbology, and other equally exciting finds."
"When do we leave?" asks the ranger named Taveah.
"When we have finished our breakfast and these negotiations." Sur'kil smiles.
After some negotiations Sur'kil agrees to pay 350 galifars per week. After agreements are made, Sur'kil gives you a pouch filled with 200 gold.
"Here is an advance, the remainder will be provided once we are en route."
After finishing breakfast and whatever other preparations you need to make, you meet Sur'kil at the Orien lightning rail station.