Sar – Zarantyr 21st, 999 YK
Saturday – January 21st, 999 YK
Morning
After a couple hour march over the barren frozen ice, the weather quickly changes. A terrible blizzard sweeps across the land. The snow comes thick and quickly, blocking sight and stinging the flesh. A deep chill pervades the area and with it an unnatural howling wind. An arcane streaky dusting of brilliant crimson crystals swirls within the snow forming chaotic patterns that threaten to mesmerize any nearby.
"This is a fell voice in the air." Sejik shouts over the sudden wind. "It's Illmarrow!"
"And that's blood snow," Caiphys warns. "A poisonous frost said to originate from the shadow lands of Dolurrh. Cover yourselves." Caiphys concentrates for a moment, adapting his body to be more suited to the frigid terrain. He suddenly grows in bulk, becomes hairy, and blinks as a protective, transparent skin grows over his eyes.
The group, unequipped with his talents, simply covers any exposed skin and continues through the snow.
You make it through the worst of the blizzard and the fell snow. However, the white-out continues relentlessly. You sense by the formation of the ice that there are concealed dangers beneath the snow —crevasses of unknown depth or worse.
Morthos marches forward, heedless of the danger in his single-minded drive to reach Illmarrow. The group struggles to keep up, fearful of losing him in the white-out. The wind howls, and suddenly the snow under Morthos' feet gives way. He drops, but Taveah snatches his arm and falls back into the snow, saving the tiefling from a very unpleasant drop.
"You need to be careful, Morthos," Taveah chides as they stand. "You almost died. Again."
"There's no time to be careful," Morthos replies. "We are very near. I can feel it."
"You won't be able to help your caretaker if you're at the bottom of some frozen hole." Taveah takes off her pack and pulls out a silver grappler shaped like a dragon's claw. Using a length of rope she ties herself and her companions to it. "This should stop us from tumbling into the abyss," she shouts over the din of the storm.
"I have been there," Morthos replies.
You march on as the blizzard worsens. Though well-prepared for the expedition, the frigid wind bites and claws. Fingers and toes start to tingle, then go numb.
"If we don't find Illmarrow soon we'll be as frozen as that dwarf," Kohl says.
By nightfall, the deadly white-out persists. It is nearly impossible to discern shadow, object, landmark, or cloud. All sense of direction, depth perception and even balance are threatened. Land and sky seem to blend and the horizon disappears into a white nothingness.
"I have heard tales of this land," Sejik shouts. "Lord Boroman ir'Dayne ventured here on expedition for the Wayfinder Foundation."
Morthos nods. "You are thinking of the landmark he wrote of?"
Sejik looks at him darkly. "Yes. If we can find it, we can orient ourselves."
Taveah traces the pattern of the snow with her sharp mercurial gaze. "Unless all sense has left this place," Taveah says, pointing. "That way is north."
"Well, that gives us something to work with, then," Sejik says.
"Peel your eyes and see if you can make out… Yes! Faintly, do you see? A great spire of ice. That is our landmark. Illmarrow is this way." Sejik bounds confidently through the snow. His friend exchange looks.
"Can we trust his eyes when his mind has betrayed him?" Kohl asks.
"No," Caiphys replies. "But if we wander further away from the city of the undead elven queen I won't complain too loudly."
Sul – Zarantyr 22nd, 999 YK
Sunday – January 22nd, 999 YK
Just after the Witching Hour
You survive the blizzard and perilous frozen landscape only to nearly stumble over a dangerous precipice. The blizzard mysteriously fades and from out of the swirling white frost, a great gorge opens before you. Within it, an ice-shrouded city of shattered obsidian spires and decaying arched bridges comes into view. The city is a ruin. A boiling sea of black surrounds the base of the towers a hundred feet below. It is as if Illmarrow is sinking into the depths of Dolurrh. Gray lightning surges within the bog providing a baleful dim light. A teetering stone bridge crosses the massive chasm before you connecting to a savaged obsidian tower. Uncounted hundreds more spread farther in the distance, their shattered bridges out of reach.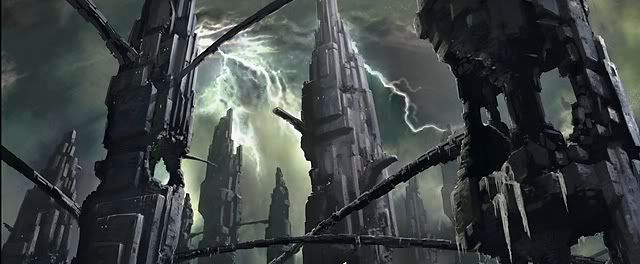 As you cautiously move across the crumbling obsidian bridge, your light sources dim. Sejik feels the presence of the Shadowfell and you each sense the presence of spectral undead lurking within the sea of necrotic death below.
You arrive in the first shattered tower. Freezing air and a sullen darkness envelop you as a series of fractured black columns come into view.
The cracked stone floor slopes steeply down toward an archway opening onto a dead black mist, and above you a partial domed ceiling frames the sky. You see seven bodies, veiled by shadows, have been laid out amongst the rubble along the far wall. The bodies are frozen and naked with multiple teeth marks, chunks of flesh hanging from each other's maws.
Morthos recognizes three of the bodies as agents of the Shades of Darkness, whom he trained and bunked with. The first is Yenkul, a Khoravar, his body is badly burned, his eyes blue and clammy. The second is Udokol, a human. You recognize him only by the tattoo of gates inside the mouth of a demon upon his chest. The flame side of a torch stuck in his mouth, has burned most of his head completely off. The third is the human woman Loramorel, her mouth twisted impossibly wide open in obvious terror, the rest of her body burned beyond recognition.
The group decides this is as fine — or as poor — a spot as any to camp for the night. Taveah and Sejik are dismayed to find they've been frost bitten. Taveah complains loudly, but Sejik refuses to assist her with his magic.
Sejik holds up his satchel of ritual components. "These things don't grow on trees, Taveah." He pauses. "Well, some of them do. But do you see any trees around here?"
Taveah pouts. "If my fingers fall off, it'll be your fault."
The group decides it will be safest (not to mention warmest) to use the Exodus Knife and some canvas, provided by Jordhan before he left, and rest. When they awaken from their slumber in the dimensional pocket they see a dark necrotic slime has seeped into the room and has spread across the ceiling. The group exits the pocket to find Morthos waiting outside. While Sejik's frost bite appears to have healed, Taveah's hand has worsened.
"I told you!" She says, shoving her blackening fingers at Sejik. "They're going to fall off."
"Bah, you'll be fine," he says, waving them away, but he looks disquieted.
The group gathers their supplies and moves on.